Comparative water use (November 2, 2015)
Transcript
My name is Greg Raven, and I live here in Apple Valley. I'd like to take a couple minutes to talk about water usage.
We know that 75 percent of the customers of Apple Valley Ranchos Water Company incur no drought surcharge, and that only ten percent of Ranchos' customers pay 80 percent of the state-mandated drought surcharges.
Yet when you look at letters to the editor, read postings on Facebook, or listen to residents addressing the Town Council, it seems clear that many people, including Town council members, don't understand how much water they are using, how much is appropriate, and what the deal is with the drought surcharge.
My wife and I live on a half-acre lot. We are each retired and we don't travel — we don't go out much — and so consequently we are almost always home. We have a washing machine and a dishwasher and a hot tub and a swamp cooler and mature landscaping, and because we're always home that's where we eat most of our meals. When we get a drink of water, we do it at home. When we flush the toilet, we do it at home. In other words, even though we try to conserve water, there's only so much we can do. Plus, we drink a lot of water.
This jar represents the amount of water that residential users in Apple Valley can consume before incurring a drought surcharge: 32 units. For this much water the bill would be $168. As I said, with this level of water use, there is no drought surcharge.
Some of the supporters of the hostile takeover of Ranchos use this much water: 100 units, three times the normal allotment. For those folks, the bill will be $659, with $193 of that going to the drought surcharge.
One of the most vocal proponents of the hostile takeover of Ranchos uses this much water: 150 units. His bill was $1,021, including a drought surcharge of $335.
I've even seen a bill that shows this much water use: 169 units. That bill was $1,140, and included $389 in drought surcharges.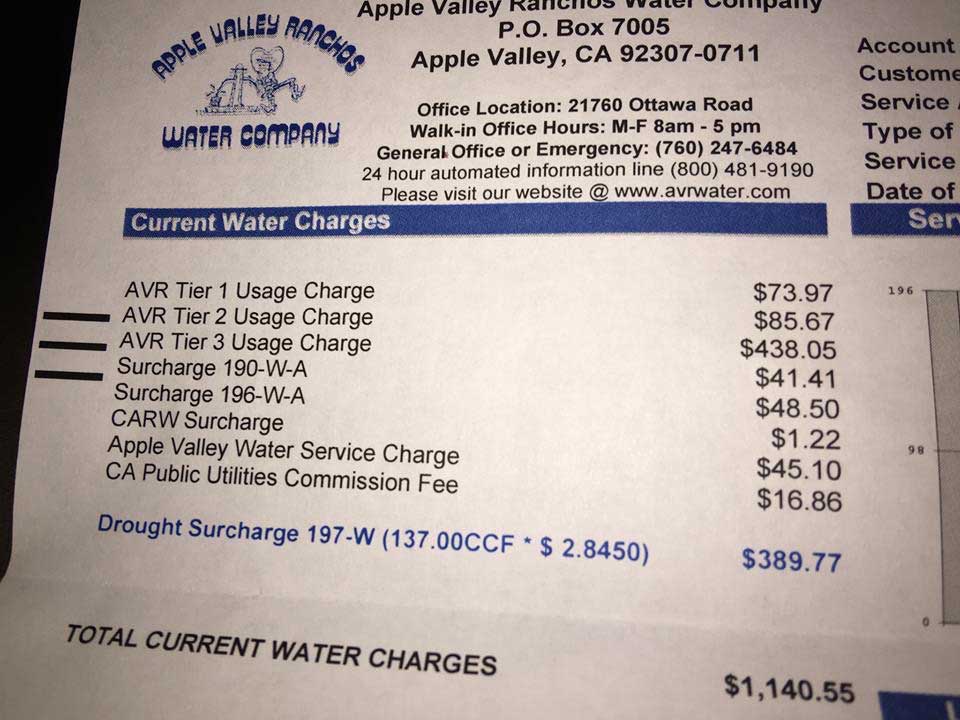 By now you may be wondering how much water my wife and I use, being home all the time?
This jar represents the water usage on our last bill from Ranchos. Three units. Three units cost us less than $58. There was no drought surcharge. Our previous bill was four units, with no drought surcharge. The bill before that it was six units, with no drought surcharge. We've reduced water usage and thus our water bill for ten straight months. We've never had a drought surcharge. For every gallon of water we use, this person uses 56 gallons. Even a person using the standard allotment of 32 units uses ten gallons of water for each gallon we use. If my wife and I can conserve water, I'd like to think that anyone can do it.
One thing people don't seem to understand is that your bill is based not on how much you've cut back, but on how much water you are still using. If you see a drought surcharge on your water bill, it means you used a lot of water. If a person using 166 units cut his usage by half (which can be tough to do — I know because we've done it), his water bill is still going to be $544, including a $148 drought surcharge. In fact, if this person cut back by 80 percent, he would still be paying a drought surcharge. It's not about how much you've cut back, it's about how much you are still using.
If you think you have cut back as much as you can, but you are still seeing a drought surcharge on your water bill, I urge you to call Ranchos to schedule a water audit, to find out where that water is going.
We live in a desert, and we are in the midst of a serious drought. Each of us needs to be water wise to ensure sustainable levels of water use.
Thank you.
— Greg Raven is Co-Chair of Apple Valley Citizens for Government Accountability, and is concerned about quality of life issues.
Water bill charge breakdown
This is what total transparency looks like.
Charge category
Rate
Limit (units)
3 units
32 units
100 units
150 units
05/8 Meter
$45.10
$45.10
$45.10
$45.10
$45.10
Tier 1
$2.845
13
$8.54
$36.99
$36.99
$36.99
Tier 2
$3.295
26
$–
$42.84
$42.84
$42.84
Tier 3
$3.744
52
$–
$22.46
$277.06
$464.26
190 WA
$0.245
$0.74
$7.84
$24.50
$36.75
196 WA
$0.287
$0.86
$9.18
$28.70
$43.05
197 W Drought Surcharge
$2.845
32
$–
$–
$193.46
$335.71
CARW
$1.22
$1.22
$1.22
$1.22
$1.22
CPUC
1.50%
$0.85
$2.48
$9.75
$15.09
$57.30
$168.11
$659.60
$1,020.99
---