'Award-winning' budgets (September 15, 2016)
I found it interesting that Apple Valley Town Manager Frank Robinson's defense of Assistant Town Manager of Finance & Administration Marc Puckett included a reference to the Distinguished Budget Presentation Award from the Government Finance Officers Association (Apple Valley's head of finance comes under fire, Daily Press, September 14, 2016). For those unaware, a copy of the award certificate is included with the Town's annual budgets.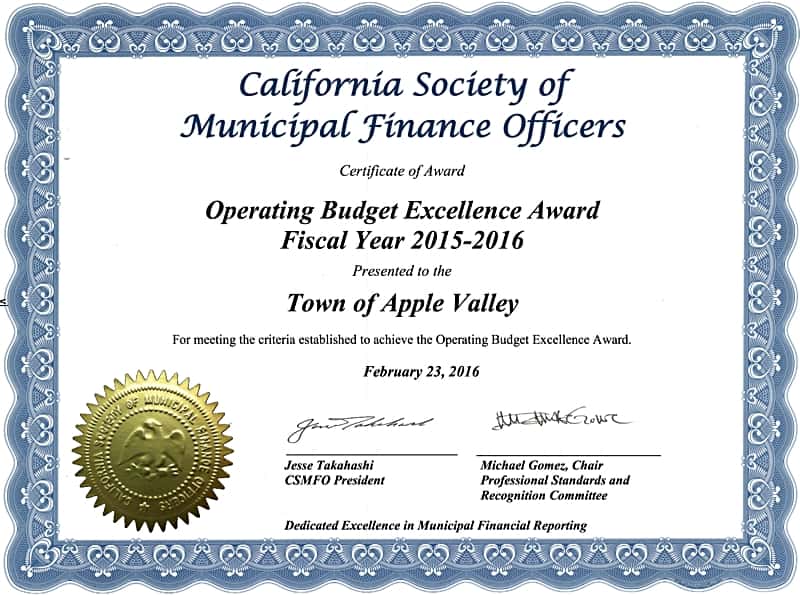 Lest anyone think that a team of government-budget experts scrutinizes our town's proposed and adopted budgets before finding them so meritorious, the reality is that this is really more akin to a participation award; there's no actual investigation or number-crunching being done. In fact, the Town's books haven't had a truly independent audit for years of any kind by anybody. Consequently, virtually anything could be going on with the Town's finances and we'd be the last to know. This puts Apple Valley in the same category as Eastpoint, MI, Flint, MI, and Costa Mesa, CA, where Mr. Puckett previously served with less than distinction.
In Flint, MI, for example, Puckett's annual reports received certificates of achievement for excellence in financial reporting five years running. Imagine the surprise of the residents of Flint in year six, when Puckett's house of cards collapsed and millions upon millions of dollars were found to have been mishandled.
Closer to home, the past, current, and proposed expenditures Town's multi-million-dollar jihad against Liberty Utilities appear nowhere on the Town's distinguished budgets, because Puckett is purposely distributing the costs across multiple departments, where they are out of the view of the citizenry. Mangled versions of these expenditures do materialize sporadically on the Town's misnamed transparency report, but these bear little connection to reality.
This is just one example of many. From what I can tell, the Town of Apple Valley is in the midst of a reenactment of Thelma and Louise, where bad decisions are piled on poor judgments again and again. Unless the voters regain control in our upcoming election, we appear to be heading over a cliff. If sweeping and substantive changes are not made soon, the only question is what size crater we will make when we hit bottom.
— Greg Raven is Co-Chair of Apple Valley Citizens for Government Accountability, and is concerned about quality of life issues.